So here's what I've got for you: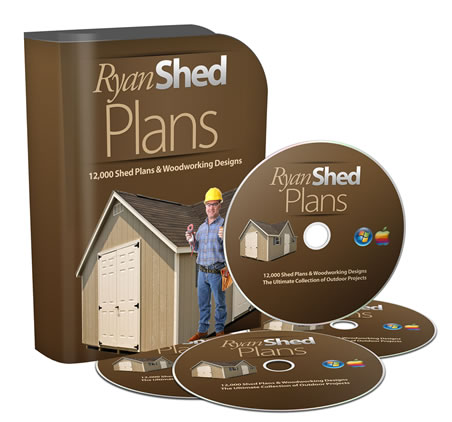 All 12,000 shed plans designed by ME...
...a living, breathing woodworker whose taught dozens of first-time-woodworkers to build STUNNING, master-level shed's time and time again.
You'll be accessing my VAULT of "Perfect Shed Plans" for thousands of designs

With each Perfect Shed Plan you'll receive...
ALL the components of the "Perfect Shed Plan " that I showed you above.

A complete and exact list of materials. This includes cutting lists & tools, with clear labels showing what they each item is used for. (So you can buy JUST what you need, budget better and multiply your floor space).

Professional, 3D CAD designed images. (You see from ALL angles, what each part is SUPPOSED to look like before you start building)

LEGO style assembly instructions. (So the shed ends up just "Clicking" together at the end. Every part will fit PERFECTLY)

And much more...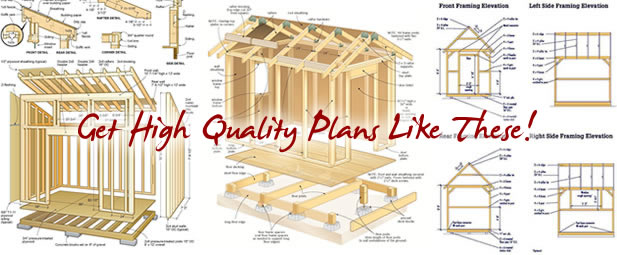 As you can see...



You won't hit a wall, feeling lost with what to do next..

You won't have to make several trips to Home Depot to pick up that ONE little thing that was left out of the instructions...

You won't get to the end only to find out the damn parts won't fit...

You won't be guessing whether you've got it right not. You'll have complete confidence each step of the way, that your shed will come together perfectly.

All the planning done for you... so you never have to worry when you start building your first shed.
Some Samples Of Shed Plans Available

A Guide to Building -
Outdoor Stairs
A pergola
Adirondack Chair 1
Adirondack Chair 2
Adirondack Chair 3
Adirondack Chair 4
Adirondack Chair 5
Adirondack Chair 6
Adirondack Chair 7
Aldo Leopold Bench
Basic Dog house
Arched bridge
Backyard Arbor 1
Backyard Arbor 2
Backyard BBQ Pit
Backyard Ferris Wheel
Backyard Lighthouse
Backyard Steps
Backyard Train
Barbecue Trolley
Basic Gazebo
Bathing Beautie Shed
BBQ Caddie
BBQ Cart
Beach Chair
Bench and Planter Box
Bench Outdoor
Feed Cart
Decking & Fences

Dog Kennel 1
Dog Kennel 2
Dog Kennel 3
Dog Kennel 4
Dog Kennel
Doghouse Plans
Doghouse, Basic
Dust Bin Shed
Elegant Picnic Table
Farm table
Adirondack rocking chair
Fence Installation
Fence Window
Fence Flower Box
Foundation information
Garden Arbour & Sun Shade
Garden Bench 1
Garden Bench 2
Garden Bridge
Garden Centre Trolley
Garden Chair and Ottoman
Garden Gate
Garden Planter Square
Garden Shed Project Plan
Garden Swing
Garden Swing1
Garden wheelbarrow
Garden Windmill
Glider Swing(1)

Picnic Table 1
Picnic Table 2
Sonoma 2
Picnic Table
Plant Stand
Planter - petulmar
Planter - picket fence
Planter Bench 1
Planter Box 1
Planter Box with Lattice
Playground Equipment
Plywood Trestle table
Plywood Window Box
Porch Swing 1
Post & Rail Fence
Railing Planter
Routed Address Sign
Sand BoxSee Saw
Shed 12x8 plans
Shed 6 x 8 plan2
Shed 6 x 8 plans
Shed buying guide
Shed Foundations
Shed framing
Shed Instructions
Single Garage Plans
Small Chicken House
Small Trolley
Spa Surround

Bench Seat
Blanket chest 2
Bridge Superstructures
Build a Footbridge
Build a Tree Bench
Building A Shed Base
Bungalow Mailbox
Camp Stoves
Carport Instructions
Carport
Cavendish BBQ Table
Cedar Privacy Screen
Chair Swing
Storage Shed 9

Glider Swing(2)
Hexagonal BBQ Table
How to Build a Fence
Walk Through Garden Pergola
How to make a Wendy house
Ideas for landscape
Lake Tahoe Gazebo
Lattice Screen Plant Support
Lawn Swing
Lounge Chair
Making an Easy Arbor
Mendocino Bench 2
Mendocino Bench

Square Planter Box
Steps in Building a Shed
Storage Shed 1
Storage Shed 2
Storage Shed 3
Storage Shed 4
Storage Shed 5
Storage Shed 6
Storage Shed 7
Storage Shed 8
Outdoor Shed
Garden Shed
Garden Shed 2

Classic Cedar Garden Bench
Classic Picket Fence
Cold Frame 1
Cold Frame 2
Cold Frame 3
Commando
Composter
composting
Covered BBQ Pit 1
Covered BBQ Pit 2
Cubbyhouse
Deacons Bench
Dog House


Monterey Potting Center 2
Monterey Potting Center
Nursery Wagon
Outdoor Fireplaces
Outdoor Playhouseoutside stairs
Patio Bench, concrete and plank
Patio Chair and Love Seat
Patio Chair
Patio Planter
Patio Recliner
Patio Table & chairs
Picket Flower Box
Picnic table - Sonoma
Picnic Table 1

Storage Shed for Pesticides
Swing Set
The Putter Shed
Timber Garden Shed - Part I Timber Garden Shed - Part II
Trash Can
Firewood storage unit
Trash Can Corral
Tree Caliper
Wheelbarrow Planter
Windsor Shade Shelter
Wishing Well 1
Wooden Letter Box

Other Garages, Sheds, and Outbuildings

24' x 64' Utility Building
10x12 shed plans gable roof
12x16 shed plans
30-frame-utility-building
30-pole-utility-building
32-step-puzzle-box
36-frame-utility-building
36-pole-utility-building
40-frame-utility-building
42-wide-pole-utility-building
50-pole-utility-building
Farm Shop
24x30x10 Garage
20x20x8 Garage
12x20x8 Storage Celler 14x20x9 Garage
12x20 Garage
18x24 Garage
18x20Shop
18x46x8 Storage
24x36x10 Storage
26x70x8 Storage
36x60x19 Storage
20x27x115 Log Cabin
3 RM Log Cabin
Feeding Barn 30x56
Mule Barn
2 storey Braced Rafter Barn
Storage archroof
Storage Shop 24x30
Pole Barn 39x60
Pole Barn 39x60
Pole Barn 39x60
Multi Purpose Pole Barn
Walls Doors and Windows

Boat Landing
Adirondack Shelter
1 BR Pole Frame Cabin
1 BR A Frame Cabin
16x20 Cabin
22x24 Dorm Loft Cabin
Storage 28x74
Storage 12x16
Storage 10x12x12
Storage 12x12x8
Storage 8x8x8
Pesticide Shed 12x16
Storage 42x98x14
Storage 25x72x11
General Barn 18x30
General Barn 24x30
Lawn Tool Storage Cabinet 4x7x1
Storage 8x8x7
Storage 32x130x18
Carport 20x134
Carport 20x34
Pavilion with Storage 24x63
30x12 Storage
32x92x32 Storage
Large Garage
Driveway Planning Guides
A-frame-cabin
A-frame-cabin-2
Bulk-feed-storage
fertilizer-storage-building
Campground
Stationcamp House
Cattle-Shed-Clubhouse
Comfort Station


General barnguest
Storage 40x104x14
Storage 48x96x14
Storage 60x136x14
Storage 30x112x14
Storage 56x8848'
Solar Machine Shop
Farmshop and aptmt 50x75
Storage shed 6x8x7
Farm repair shop 32x64
Farm Shop Layouts 72x100
Storage Shed 8x12x6
Farmshop 28x50
Machinery Storage 3x98
Storage Shed
General Purpose Pole Barn
40x44 General Barn
36x48 General Barntownhouse
2-bedroomtownhouse
3-bedroomtownhouse
4-bedroom Storage 25x36
Storage 30x60
Garage 24x24
Garage 24x24 Post Frame
community-building
community-log-home
cotton-storage-shed
Elevated Sawdust Bin
Utility Building 36x64x10
Utility Building 36x64x11
Utility Building50x64x10
truss_50
truss_60




The truth is, woodworkers and hobbyists from all walks of life have benefited greatly from this package and and testimonials like these started to flow into my email inbox: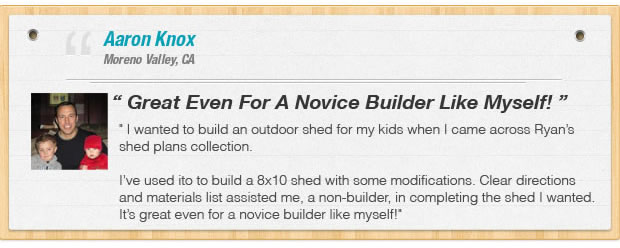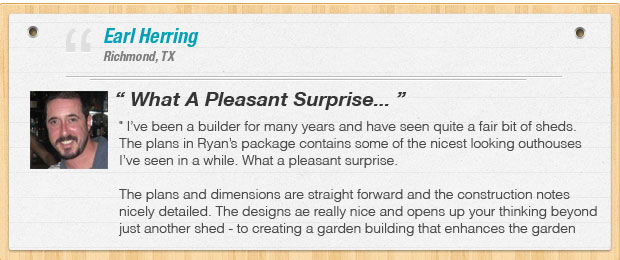 You see, I've helped over 2000+ woodworkers, create and build sheds the easier way.
By using all the plans and blueprints — I have helped home owners and establishments alike construct remarkable looking sheds and woodworking projects at the fraction of the cost they would normally pay!
I'm so proud and confident of my "Perfect Shed Plans", I'll stamp them with my...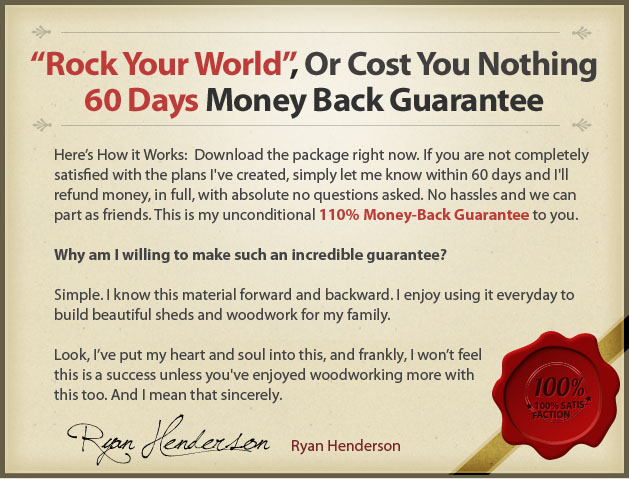 You have 60 full days to try "Perfect Shed Plans" ON ME - risk-free.
Either you're overwhelmed by the positive results or you pay nothing.
If you don't find that these plans are the easiest plans you've ever used...
If you don't find our service and attention to your satisfaction top-notch... OR:
Even if you don't like the FONT I use in the book... it doesn't matter... I'll refund your money.
All you need to do is email me, and I will cheerfully give you 100% of your money back. No questions asked, no hassles, and no hard feelings.
Right now, you have 3 Options:

You may have some experience with woodwork.
You may think you can roll the dice and get it done on your own.
More power to you. Go for it.

You may not mind having to go back to Home Depot 2 or 3 times.
Then hunt down one of the employees (which takes about 10 - 20 minutes) and hopefully they can fill in the holes in the plan you're using.
And maybe -- just MAYBE -- you'd get the shed complete.
And if you're LUCKY... you won't have those aggravating misalignments that stand out like eye-sores.
It's fine if you want to do this.
Most people do. Then again, most people give up. And spent about 3 to 4 TIMES what they should.

Have a plan that you can take to the Hardware store ONCE...
...Get everything you need ONCE...
...Finish each step ONCE.
Avoid, wondering if you are doing it right.
Be able to see what it's supposed to look like from all angles on paper, so you KNOW you got it right at each stage.
And at the last step, when everything comes together, they come together PERFECTLY.
Every edge, every joint, every part fitting PERFECTLY.
And VIOLA! You have a stunning, perfect, shed that looks like a professional woodworker made it.
And best of all, you saved money ... saved time ... had fun ... and avoided a load of stress.
Here's what to do now....
Go ahead and try my shed plans package for your self completely RISK FREE.

Plus... if you get it right now, I'll throw in these special bonuses for you.

Transform into a Master Woodworker, virtually overnight . (no matter what level you're currently at).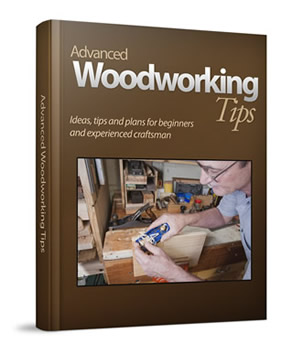 After years of woodworking, experimenting with different techniques, trading notes with other experts and teaching beginners to get their woodworking chops up to a master-level -- fast...
...I collected some techniques that were even more advanced than anything you'll find in before.
They were "little" things...
...minor adjustments here and there (in my setup, in my tool care, my planning, etc.)...
...that suddenly enabled me to create jaw-dropping projects more consistently in the last two years than I've ever experienced in the prior 10 years!
VALUE: $129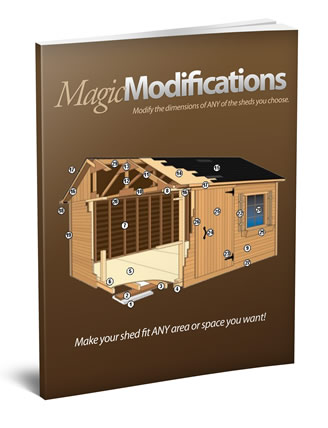 This worksheet will show you how to modify the dimensions of ANY of the sheds you choose.
Make your shed fit ANY area or space you want.
There is NO guesswork at all. Use my worksheet and you'll get the precise cuts and lengths you need to modify your shed exactly the way you want it.
VALUE: $79

Find ANY woodworking supply, equipment or tool anywhere, anytime.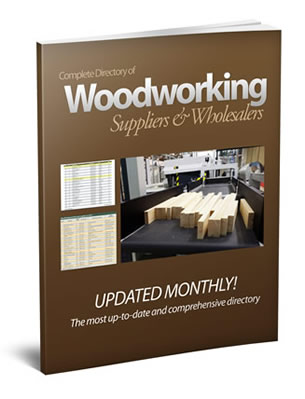 This directory is the latest, most up-to-date and comprehensive directory of suppliers to date.
Even those hard to find, rare exotic woods, will be within reach.
See what exists in your town or have it mailed to you.
You can do it with this directory.
VALUE: $65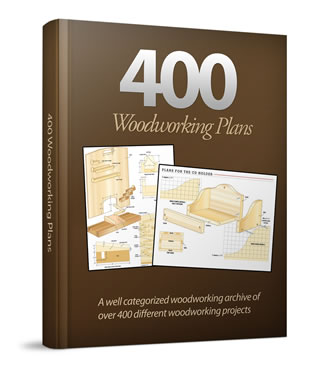 Over 400 more woodworking plans for every project you can dream of...
- All the necessary materials for the particular wood work design are prepared
- Full detailed diagrams with the right set of dimensions
- Step by step instructions guiding you how to start from scratch
- Woodworking tools are provided in every plan designs
VALUE: $127


Like it or not, you're going to be building gorgeous , professional-grade sheds in less time...
...and with higher accuracy because of the incredibly clear and complete instructions that give you a clear view of every step you need to take -- before you take it.

You will no longer dread the next time you sit in front of your shed plan.
Your buddies will watch in awe as you put up your shed with the precision of a veteran woodworker.
Speaking from experience, I hope you can handle a lot of other woodworkers' envy — because you're going to get your fair share of it.
But actually, what you'll really be getting is their...
• Respect...
• Admiration...
• Praise...
...and a lot of people begging you to tell them your secret !
You, of course, won't mind this a bit. Your account balance will start overflowing like a dike in a storm .
You'll be getting offers to build sheds for your friends and colleagues.
And your biggest concern will figuring out how much to charge for your "expert" advice.
In a nutshell...

And if you're like me, you're going to love every minute of it — MORE than you've ever enjoyed woodworking before.

In addition to how much you'll love "Ryan's Shed Plans", you'll also like the fact that it's affordable .
You see, I'm giving a SPECIAL DISCOUNT PRICE to woodworkers like you who are on this page right now.
For everyone else, when I decide to raise the price, these plans will cost $297.
And the bonus will be sold separately .
But for you, the price is only $37 .
That's an INSTANT $260 savings just for ordering right now.
Plus, you also get all 4 special bonuses I described a moment ago — a $400 value, absolutely FREE.
And, you're fully protected by my guarantee.
To get your copy, simply click the "Add To Cart" button now...




I understand I'll be instantly downloading over 12,000 shed plans and designs covering all types of sheds

Plus I'll get LEGO style assembly instructions, 3D CAD images, list of materials, views from all angles and all details for each shed plan & free bonuses worth over $300 if I order today.

In addition,

I understand that I will forfeit this introductory price and the bonuses if I do not purchase it now.

I further understand that on top of all these incredible benefits, I am backed by a ironclad 100% Money-Back Guarantee.

On That Basis, Let Me In At This Insane Investment Of $297 $197 $97 $37! For RyanShedPlans Complete Package

And I'll Get Access To The Shed Plans, Blueprints, Woodworking Course & Free Bonuses Immediately After Payment !
See you on the inside,
Ryan Henderson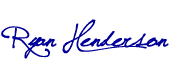 P.S. My plans covers every single thing you need to build an impressive new shed that will get the awe and respect of the most seasoned woodworker.
But you have to see them to appreciate what I've put together for you.
P.P.S. And since you take NO RISK because of 60 Day, 100% Money-Back Guarantee, you'd be foolish to pass up this opportunity!
Either that, or you're a glutton for punishment.
Click here to order now and you'll get INSTANT access to the download page.
I assure you — you won't be disappointed.